For his sixth feature film, the Kazakh director is inspired by Crime and Punishment, the famous classic by the Russian novelist Fyodor Dostoyevsky.
After About Love (2006), a short film adapted from the story by Anton Chekhov, and Shuga (2007), inspired by Leon Tolstoy's novel Anna Karenina, Darezhan Omirbayev signs a new adaptation of a classic of Russian literature. This time, with Student, the Kazakh director has chosen to take the plunge into the world of Fyodor Dostoyevsky and his famous Crime and Punishment, published in 1866.
Omirbayez affirms that he is anxious to follow the narrative structure of the novel as closely as possible, and to follow the psychological torments of the young Raskolnikov, a philosophy student who is driven to commit a double murder because of his modest financial situation. For the filmmaker, the actions of the central protagonist of Crime and Punishment are to be understood as a reaction to the rise of capitalism in a Russian society that is on the verge of implosion. "This is, moreover, what makes Raskolnikov a very contemporary character", he said in an interview in theCahiers du cinéma last February.
Darezhan Omirbayev also sees in Dostoyevsky's work a perfect mirror of the current state of health of Kazakh society. "I was interested in this novel because the historic period in which it was written is very similar to the period we are living in today in Kazakhstan", the director commented. He has given the main role in his film to one of his students in the Almaty Academy of the Arts, where he teaches filmmaking.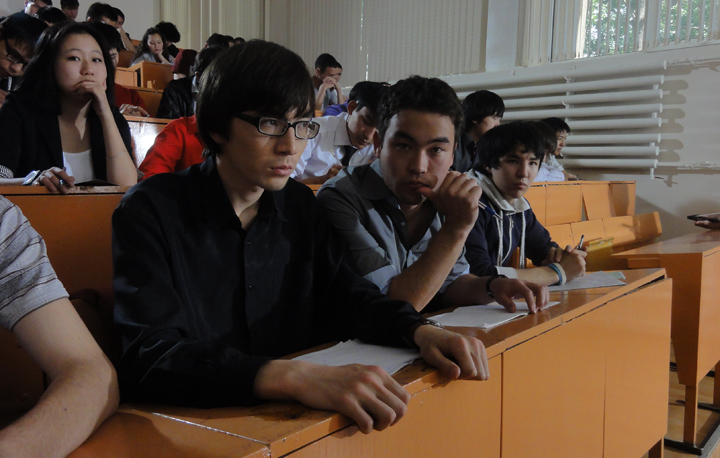 The cinema of Darezhan Omirbayev bears the mark of his rigour and poetry, qualities the director assumes himself and which are carried over into all his works. Student is his sixth feature film, the third to have been selected in Un Certain Regard afterKiller (1998 – Prize Un Certain Regard/Fondation Gan) and The Road (2001).
BP


The film will be screened at 2 p.m. and at 11:30 p.m. in Salle Debussy.
                                                              -------------
Questionnaire Un Certain Regard : Darezhan Omirbayev for Student

1- What does Un Certain Regard mean to you?
It is an opportunity to look at the world in my own way and share with the audience my view on people, things and  in what form I see and in what order.

2- Why is cinema essential to you?
Because everything else is not important. I could not become a mathematician, so I wanted to be a director of film. At school I loved art lessons and maths.

3- Which type of cinema or which film continues to inspire you?
I love films by Robert Bresson. They inspire me.

4- What question would you like to ask to any film director?
What subject in school was your favorite?

5- What are you expecting from the Festival de Cannes ?
The proof that art of the cinema is not dead.

A few words on your first day at Cannes?
My daughter, Aruzhan, is for the first time outside of Kazakhstan. She very liked Cannes and also we really liked the dinner in honor of the opening of Cannes Festival. It was a work of art.