Adapted from the eponymous novel by Georges de la Fouchardière, The Bitch (La Chienne) (1931) was the first talkie made by the director of The Human Beast (La Bête Humaine) (1938). It is also one of the earliest talkies in the history of French cinema.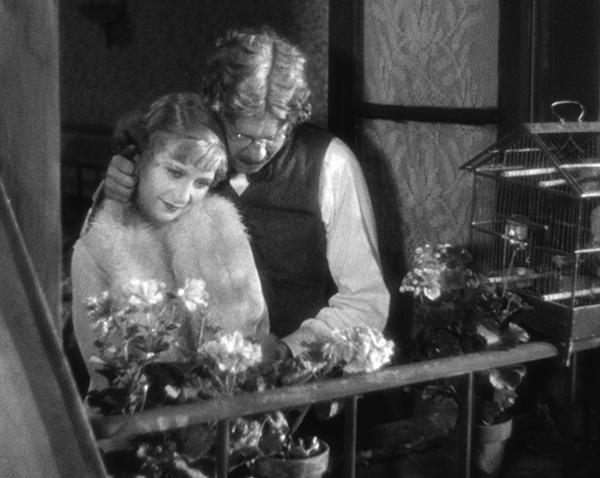 Photo du film © DR
In a television interview in 1961, Jean Renoir responded to a question about the making of The Bitch by saying that one of the reasons he shot this feature film was his "tremendous admiration" for Michel Simon. With The Bitch, the director hoped to give the actor a role that would allow him to "reach a peak". "He did just that. I gave him the framework and he acted in it. His performance was a great success", the famous filmmaker said. In the same interview, Jean Renoir touched on another motivation: his platonic passion for the women he encountered in the streets of Paris. The director wanted to tell a story woven around a working class girl. " "It so happens that, in the novel by la Fouchardière, the girl is a prostitute, but that is just a job like any other," he added.

The Bitch tells the story of Maurice Legrand, played by Michel Simon, an amateur painter who falls in love with Lulu, a prostitute who takes advantage of his naïveté to sell his paintings under her own name. The film turned out to be challenging to make. Jean Renoir's pitch was initially rejected because of the high cost of his previous films. The producers were convinced that by adding microphones and sound, The Bitch would be a financial pit. "To convince them, I made Baby's Laxative (On Purge Bébé), which was quite a big financial success. I wrote it, shot it and edited it in six days. After six days, it even made money. That is why they let me make The Bitch."

The film is presented by Les Films du Jeudi and the Cinémathèque française, with support from the CNC and the participation of the Fonds Culturel Franco-Américain. Restoration of the image was done in 2K (from a 4K scan) by Digimage Classics and sound restoration by Diapason.

Benoit Pavan
SCREENING


Sunday 18 May / Buñuel Theater / 10 p.m.
>> Go to the interactive calendar