Cannes Classics pays tribute to a Georgian cinema great this year. The 80 year-old Eldar Shengelaya, made 10 feature films, including one which was selected in Competition. In 1976 he became President of the Union of Georgian Filmmakers, befoire entering his country's parliament in the early 1990s. In the meantime, he directed The Blue Mountains, or Unbelievable Story, a film in which he takes a potshot at bureaucracy.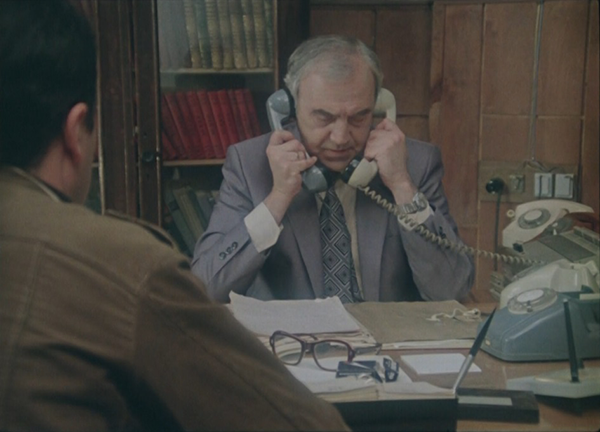 Photo of the film © RR
Since returning from his holidays, Soso has been waiting. And waiting. For days, weeks, months. His latest manuscript Blue Mountains or Unbelievable Story is lost somewhere in the depths of the publishing house for which he works. If truth be told, the offices, despite the displays of good will, are hardly a hive of rapid activity.
 
This race to publish between an outraged published and a somnolent system offers us a glimpse of the inner workings of Soviet bureaucracy. Eldar Shengelaya imbues this pervasive inertia with a touch of humour: the bureaucrats soon become productive when they devote their attention to external pursuits: the din outside the building, a game of chess, collecting copper sulphate to treat their vines... Any excuse in order not to work.
 
But the director's take is far from tender. The humour is shot through with realism and an acid touch. The slowness of the administration and his own resignation and exasperation drive Shengelaya to an absurd conclusion in which the entire building collapses. Just blame the system.
 
The film was restored in 4K by Gosfilmond in Russia on the initiative of the Georgian National Film Centre
 
Tarik Khaldi

 
SCREENING
 
Sunday 18th May / Buñuel Theatre / 3:00 pm
>> Go to interactive calendar