The Festival pays tribute to animation film. The first images of Kahlil Gibran's The Prophet will be presented at an exclusive screening event. The project, currrently in development, will be revealed in part by Salma Hayek, the film's producer, and the directors with whom she is working.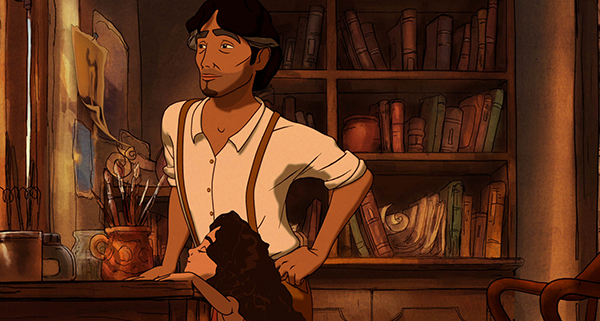 Film still © RR
It is said that The Prophet is the most read book in the world, after the Bible. An invitation to dreams, to philosophy, to an openness to the self and to the love of others, reading the book inevitably conjures up a series of soft and colourful images in the imagination of the person turning its pages. It therefore seems natural that an animation film should interpret this world.
 
Kahlil Gibran's The Prophet should accomplish this challenge with brio. From the United States to Lebanon, masters of animation film have become involved with the project. Under the direction of Roger Allers, father of The Lion King on the big screen, nine segments will emerge from the hands of Joan Sfarr (Le Chat du Rabbin, The Rabbi's Cat), Paul and Gaëtan Brizzi (The Hunchback of Notre Dame, Tarzan), Tomm Moore (Brendan et le secret de Kells, The Secret of Kells), Joan Gratz, Mohammed Saeed Harib, Nina Paley, Bill Plympton and Michel Socha.
 
The film boasts sharp pencils on paper and an exceptional cast for the characters' voices. Working with Salma Hayek are: Liam Neeson, John Krasinski, Alfred Molina and the very young Quvenzhané Wallis, who featured in Un Certain Regard in Beasts of the Southern Wild (2012).
 
The project is still in the initial development stage but the Festival will offer a taster. For the occasion, Salma Hayek will host the event, with numerous guests present, including Julie Gayet, who will read extracts from The Prophet.
 
Tarik Khaldi
 

SCREENING


Saturday 17th May / Soixantième Theatre / 7 p.m.
>> Access the interactive calendar