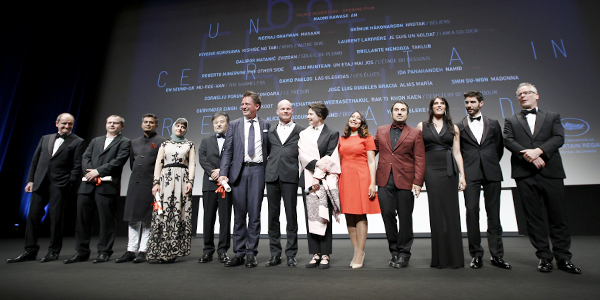 Winners Un Certain Regard © FDC / C. Duchene
Un Certain Regard 2015 presented in competition 19 films hailing from 21 different countries. Four of the works were first films. The Opening film was An by Naomi Kawase.
With Isabella Rossellini (filmmaker - United States, Italy) as its President, the Jury was comprised of Haifaa al-Mansour (director - Saudi Arabia), Panos H. Koutras (director - Greece), Nadine Labaki (director, actress - Lebanon) and Tahar Rahim (actor - France).

"We, the Jury, would like to thank the Festival de Cannes for inviting us to be part of the Jury for Un Certain Regard.
The experience of watching nineteen films from twenty-one countries was memorable. It was like taking a flight over our Planet and its inhabitants… Any anthropologist would be envious of us.
We would like to particularly thank Thierry Frémaux and his team for their incredible kindness.
I cannot refrain from expressing my personal gratitude to the Festival for having chosen my mother Ingrid Bergman to grace the poster of the 68th edition of this festival.
Mamma hovers over all of us, filmmakers and film lovers alike, as a guardian angel.
Thank you."

Isabella Rossellini

UN CERTAIN REGARD AWARD


HRÚTAR (Béliers / Rams) by Grímur Hákonarson
*   *   *

JURY PRIZE

ZVIZDAN (Soleil de plomb / The High Sun) by Dalibor Matanić
*   *   *
BEST DIRECTOR PRIZE

Kiyoshi Kurosawa for KISHIBE NO TABI (Vers l'autre rive / Journey to the Shore)
*   *   *

UN CERTAIN TALENT PRIZE

    COMOARA (Le Trésor / Treasure) by Corneliu Porumboiu
*   *   *

PROMISING FUTURE PRIZE

    Ex aequo