Depardieu Grandeur Nature is a portrait of the actor that does justice to his stature in all senses of the word, a stature reflecting his immoderate approach to his life and work. The film was made by Richard Melloul as a result of conversations with Depardieu and those who have accompanied him on his journey. The screen giant's photographer and confidant gives us some insight into the filming.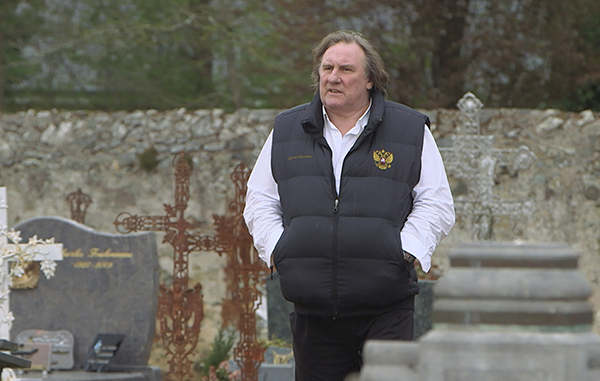 Film still © RR

What led you to make this documentary?
I had wanted to reunite the legendary Dewaere/Depardieu duo in a book for the 40th anniversary of Bertrand Blier's Going Places (Les Valseuses) (1974). I put the idea to Gérard Depardieu, and it was he who suggested making a film out of it. After talking to him for two and half hours, I realised I had enough material to go further than Going Places (Les Valseuses) and do something just on him.

Was it difficult to get him to confide in you?
It all happened very naturally. We set the scene, and Gérard talked. He went so far as to reveal his inner self and show his more fragile side; it was this aspect of the man that interested me. We began the interviews at the end of 2013 and spread them out over a year and a half.

How did you want to portray him?
I wanted to show the sides of him that are rarely shown. Those that aren't sensational. For someone who makes five films a year, he is extremely modest and discreet. It was this image of him that I wanted to delve into more deeply.
 
How did he open up to you?
He started with his childhood, his first drama lessons, his relationship with his parents, his arrival in Paris and his experience of May 68. He mentioned those he called his "dear departed" - Truffaut, Pialat, Blier and Duras - who welcomed him into their circle and nourished him intellectually.
 
What still surprises you about him as an actor?
His capacity for excess, even when he's on set, in front of the camera. It's what puts him in a class of his own. Immoderation his is only frame of reference. In the film, Jacques Weber calls him a "diabolical angel". You could see him has a lout, or a rebel, but remember his very first films: the finesse of his performance makes him seem almost angelic.
Reported by Benoit Pavan

SCREENINGS


Wednesday 21 May / Buñuel Theatre / 7.30 pm
>> Go to interactive calendar