Actress, Script Writer, Director
FRANCE
Valeria BRUNI TEDESCHI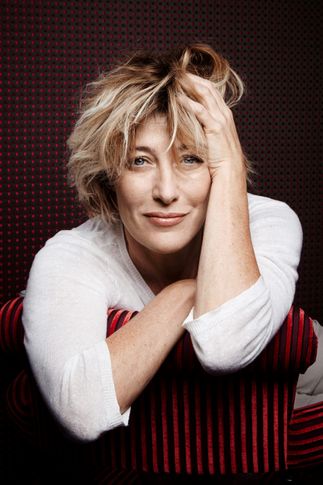 Biography
Born in Turin, Valeria Bruni-Tedeschi studied drama at the Jean Darel workshop, with Blanche Salant at the American Center and also attended Patrice Chéreau's Ecole des Amandiers in Nanterre. In 1983 she made her television, stage and screen debuts. On television in Paolina, la juste cause et la bonne raison by François Reichenbach, and on stage in Platonov directed by Patrice Chéreau. Since then, she has been constantly working on the combined fronts of television, stage and screen. For television she appeared in L'Amoureuse by Jacques Doillon (1988), Petites by Noémie Lvovsky (1997), and on stage in plays by Kleist directed by Pierre Romans (1983). On screen she appeared in Hôtel de France by Patrice Chéreau (1987), L'Homme qui a perdu son ombre by Alain Tanner (1991), as well as accompanying the directing debut of Laurence Ferreira-Barbosa in Les Gens normaux n'ont rien d'exceptionnel (1993) for which she won many awards. Ever faithful to Patrice Chéreau, she appeared in La Reine Margot (1993), Ceux qui m'aime prendront le train (1997) and worked alongside Noémie Lvovsky in Oublie moi (1993) and La Vie ne me fait pas peur (1998). She also appeared in La Seconda Volta by Mimmo Calopresti (1995), Mon homme by Bertrand Blier (1995), Encore by Pascal Bonitzer (1996), Nénette et Boni by Claire Denis (1996), La Couleur du mensonge by Claude Chabrol (1998), La Nourrice by Marco Bellochio (1998). She recently appeared in Rien à faire (1999) by Marion Vernoux, Voci (2000) by Franco Giraldi and Inverno by Nina di Majo (2001).
Films presented at Cannes
Awards
Jury members
Member
-
Cinéfondation & Short Films
-
2001
Actress, Script Writer, Director FRANCE
Valeria BRUNI TEDESCHI
Under French law n° 78-17 of 6 January 1978, modified relating to data processing, files, and liberties, internet users have the right to oppose (art. 38 of the law), access (art. 39 of the law), and amend and delete (art. 40 of the law) data concerning them. To exercise these rights, the internet user must contact: Direction juridique OGF, 31 rue de Cambrai 75946 PARIS cedex 19, or the following email address informatiqueetlibertes.dj@ogf.fr, accompanied by a copy of proof of identification.
OGF has declared the above files to the CNIL, registered under the n° 1607719.